In today's edition of Anniversary the 13th we present names of Japanese places. The Deck O' Names products provide random names of different types and the Deck O' Names – Japanese can give either male or female personal names, surnames (family names), or place names. These names could be used in roleplaying games such as The Legend of Five Rings, in quasi-Japanese areas inside other settings, or in anime- or manga-inspired games. Japanese names could also be valuable in other settings as rumored or legendary people and locations, long ago or far away.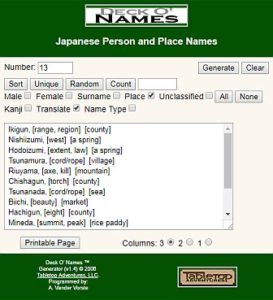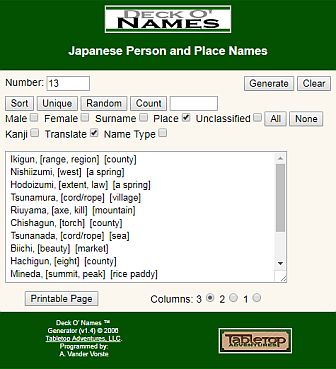 Available as print-and-cut cards or a generator that runs inside a browser program, the Deck O' Names – Japanese is always ready to provide quick names. This screen shot shows some of the options in the Deck O' Names – Japanese Generator.
Here are 13 randomly generated Japanese place names and their meanings:
Ayachou: Cloth Town
Baramura: Briar Village
Benshima: Crown Island
Hiragikawa: Holly River
Kagechou: Shadow Town
Kiyokawa: Pure River
Midorimura: Green Village
Radani: Pleasant Valley
Senichi: Fan Market
Shitaizumi: Lower Spring
Tamidani: National Valley
Tsujimori: Forest Crossing
Yukiichi: Happiness Market
For more information on the Deck O' Names, check out the Deck O' Names page on our website. To buy the Deck O' Names – Japanese, visit RPGNow, Paizo.com, or other fine on-line gaming stores. Remember, you can pick up a copy at a 25% discount during Anniversary the 13th!