The Destinations series is your gateway to the universe, bringing you flexible, creative, stat-free settings that you can use to bring life and adventure to virtually any game system. Our first Destination, Repair Station 7-Osiris provides a fascinating place for PCs to get their ship repaired or re-supplied before, during, or after an adventure.
7-Osiris is presented in two different conditions:Active (inhabited, running normally) and Derelict(ruined and devoid of life). An Overview is also provided, which familiarizes you with the station in general terms. You can run the derelict version of the station without first reading the active version. If your players ask questions relating to what station life was like while 7-Osiris was still operational, you can just refer back to the relevant bit of the active section during play.
This gives you two dramatically different ways to incorporate 7-Osiris into your campaign as well as the option of using it in both states in the same game, if the PCs become familiar with the station before disaster strikes.
The Active and Derelict conditions are described separately, and broken into several sections:Station Exterior (what 7-Osiris looks like from space); Exterior Scenes (ready-to-use descriptions of minor events that take place aboard the station); Interior Areas (what the station is like inside);Adventure Seeds (which you can use to introduce the station into your game); and Bringing 7-Osiris to Life (to help you make this repair station seem more real and vibrant to your players). Each section includes text that you can read aloud directly to your players, generally when the characters see a new area for the first time, and some include mini-vignettes featuring that area of the station.
In addition, the first division, which describes 7-Osiris as an active, functional repair station also includes one extra section, Cast of Characters, which briefly describes the NPCs who run, use and visit 7-Osiris.
The download file includes the fully bookmarked color PDF and a text version of the file for easy printing or use by people who prefer to adjust the text size.
Check out the PDF Demo!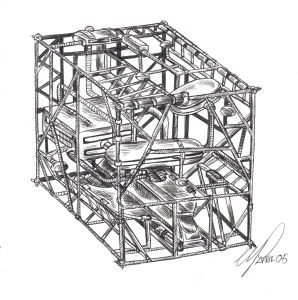 Let Tabletop Adventures supply you with Destinations for all your Future travel needs.
Tabletop Adventures LogoAugment your imagination with products from Tabletop Adventures. Now providing help for the Harried Star Master as well!
Buy it Today, Play it Tonight!