Time for a little magic – 100 detailed magical writings, which are not just your everyday scrolls! The exceptional imagination of author Greg Ragland has turned what might seem to be fairly predictable items into unexpected pieces of adventure. From a scroll that can be read only in a dream to a huge sheet of brass fastened to a castle wall to a spell in the heart of a jewel, there are "Scrolls' here as you've never seen them before.
Each item has a physical description (written for a GM to read aloud if desired), a brief history, and complete 3.5 Edition stats. In addition to the familiar scrolls and books of spells, you will find mystic writings in all shapes and sizes, some hidden or protected in a variety of ways, whose histories provide possible plot hooks or story ideas. The pieces run the gamut from 50 to over 100,000 gold pieces, and include Encounter Levels (ranging from 1 to 20) to make them easy to fit into any treasure hoard.
As usual, Tabletop Adventures has included extensive indexing. Item cards are also provided for all scrolls, giving a summary of the physical description and stats. GMs can hand these cards to players, to retain for future reference. We have also included a text-only version of the document that can be used to cut and paste directly into your GM notes or sized into a large print version for those who prefer larger type, making this product even easier to Buy Today and Play Tonight!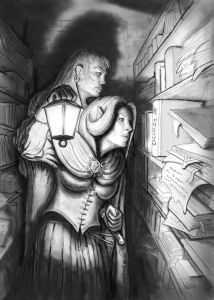 Augment your imagination with Bits of Magicka: Mystic Writings from Tabletop Adventures.
This is part of the "Harried Game Master" line of products, providing the materials we've always wished to have.
54 pages plus item cards; 82 pages total
Check out the PDF Demo!