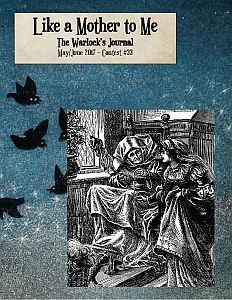 Congratulations to Ben Stone on his "Mother Issues!" Ben's entry was the fan favorite piece in the May/June 2017 Warlock's Journal Contest.
Many times someone who is not a mother still stands in the place of one, or is called by that name. The challenge was given to describe such a person and the results are available now, to whet your imagination. The final version includes the names of the winner and other authors, as well as a few illustrations to enhance the entries.
Download the contest results directly from the contest page on this website, or get the document as a free product on RPGNow or DriveThruRPG. Thank you to the fans who voted, and to the writers for making this a fun contest.
The July Warlock's Journal Contest is already open at Tales of a GM. July 13th is the deadline to describe a Doomsday Device, so check it out right away!