The weather prediction this weekend here in the Overlord's domain is for cold and more cold. Some say it might get down to 40 below. (Even the Overlord's heart isn't that cold!) Or that might be "just the wind chill" – as if that makes everything better.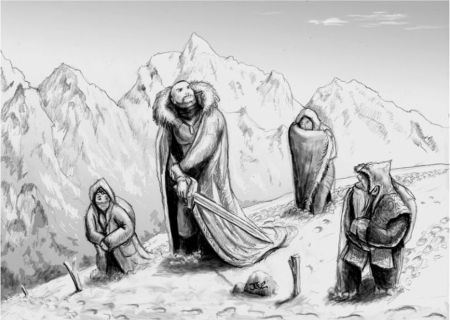 Nothing warms the Overlord's heart like selling some products, so the minions are avoiding his icy displeasure by setting all Tabletop Adventures products to an unheard-of 40% discount for this weekend – now through January 1.
Bluster through Bits of the Wilderness: Into the Mountains, or laugh at winter from the cold of space with Into the Future: Derelict Starships. All the books of description (fantasy, sci-fi, and modern horror) are on sale, along with the Deck O' Names random name generator products and Against the Darkness, the Vatican horror roleplaying game. To sum up, everything is included in the sale. (The minions' fingers are too cold to bother sorting anything out.)
This sale is going on at both RPGNow and DriveThruRPG. Don't wait to pick up some great products at this special discount, because Jan. 2 it will be gone like an icicle in the sun. Fire your imagination with cool products from Tabletop Adventures!