In this entry for Anniversary the 13th, we talk about names! Names in science fiction settings vary a great deal. Some are very down-to-earth, such as Jim Kirk or Leonard McCoy. In certain settings, a few people may have common names (such as Luke), while other names are much more exotic, such as Qui-Gon Jinn, or Mon Mothma. It is possible to use the Deck O' Names random name generators from Tabletop Adventures to provide reasonable names for many science fiction RPGs.
The original Deck O' Names uses syllables of real male or female names to recombine into sensible, pronounceable, but unusual, names. These can be good for either fantasy or some sci-fi settings. On the other hand, the Deck O' Names Modern uses modern American names to combine random given names and surnames. Of course, modern America has a wide variety of ethnic roots and an attempt has been made to represent this with the names used in this Deck.
Although both Deck O' Names sets are available as print-and-cut cards, in this instance the software Generators will be used. The physical cards do have the advantage that the decks based on male and female names can easily be mixed. The Generator software (which runs in most browser windows) is currently configured in such a way that it draws from the list of male names, or female names, but cannot combine them. The user does not necessarily have to be limited by the program's capabilities, though.
Beginning with the Deck O' Names Modern, names related to real Earth names and cultures can be generated. For example: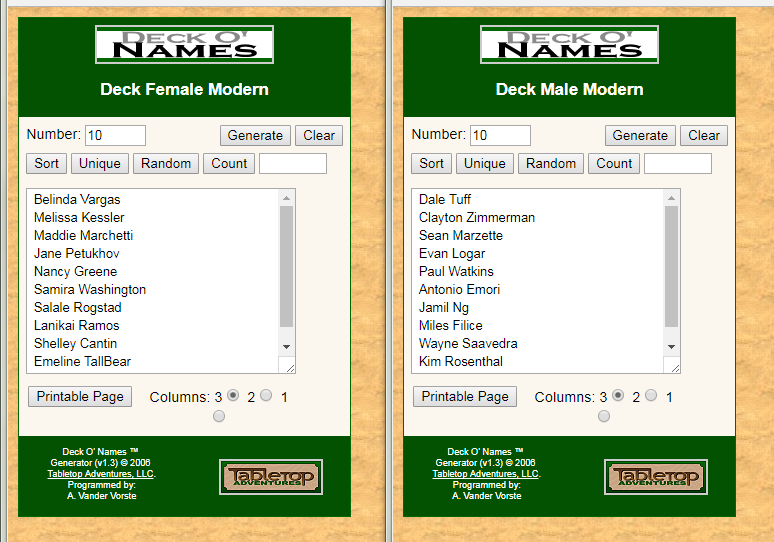 This random list means that a starship's officers (the player characters) can easily travel to a new planet with a security team of Belinda Vargas, Jamil Ng, Wayne Saavedra, and Lanikai Ramos. Good thing it didn't take too long to generate those names, because the guards may not live long enough for anyone to learn them!
In the 'space opera' genre, names tend to be more unique. In this case, the original Deck O' Names can be used to put together ideas.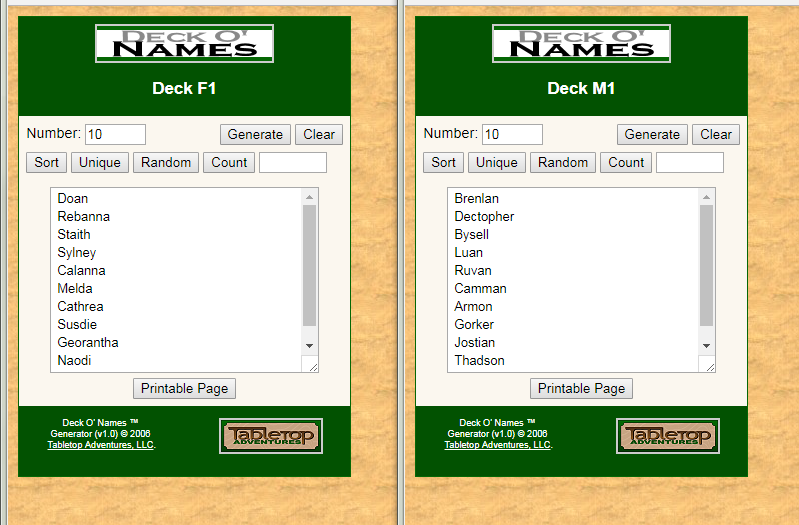 It would be easy to pull several good character names just from this group. A GM might introduce Rebanna of Staith, representative to the Galactic Senate; or Thadson Doan, freighter pilot. Jostian of Bysell (which could be a town, planet, or system) dispenses justice with his laser sword, and he travels with his trainee, Melda Ruvan.
With the above as samples, here are 13 science fiction names based on modern first names and surnames, in both male and female versions. One of these names could be given to a ship's officer or passenger, a bureaucrat, a popular news reporter from a human-based world, a social contact, a shady businessperson, or anything else needed during a game.
Female-based names

Cyrene Arbo
Diane Hutto
Esmeralda Tesla
Hattie Bryant
Joan Chen
Juanita Montgomery
Ladawn Elaraby
Maria Al-Alfi
Nashota Washington
Reyna TallBear
Skye Griffin
Trudy Nelson
Vineeta Colston

Male-based names

Ahmed Hjelmfelt
Albert Stelzer
Alonzo Culpepper
Angus Upchurch
Blaze Zottola
Danny Slocum
Elisha Kamel
Julio Ossinski
Nash Kurlander
Randy Hall
Rhett Pinard
Stanley Chapman
Stuart Kavanagh
Next, here are 13 space opera or science fantasy names, again in both male and female versions. The given names here are distinguished between male and female; the surnames may be mixed. A random name could be provided for a diplomat, a fighter pilot, a suave businessman with a cape, an elderly tavern-keeper with wisdom to share, the keeper of an archive of knowledge, a fellow student, or almost any of the myriad of NPCs the player characters might encounter in a game.
Female-based names

Abianie Bycas
Anatie Savith
Cassah Feney
Gidie Gunjah
Holeen Sarva Michby
Isaena Ronnard
Jansta Maldy
Jenela Soleen
Jilrena Darnler
Katya Rayder
Lartie Baraine
Samicia Regmer
Wenanda Getus

Male-based names

Alcan Gabetus
Byry Wentathan
Clayper Penedie
Elmin Matolf
Ezego Tyrolf
Gelivan Meloah
Hariel Sarmine
Jaran Roberly
Madeus Romeron
Rusary Dodra
Stesan Malkiel
Syler Denlin
Zater Brogo
Remember that this is the final day for Anniversary the 13th! All our Deck O' Names products (along with all our other products) are on sale at 25% off through tonight. Do yourself a favor and pick up some today at DriveThruRPG, the Open Gaming Store, or any of our other fine sales sites.