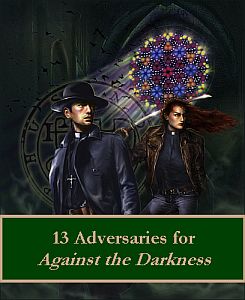 Observing Anniversary the 13th has pressed us into producing yet another list – this time of adversaries (that is, monsters) for Against the Darkness. Our modern Vatican horror roleplaying game has never had a lot of published monsters, so here are another 13 to add to the darkness! Some are based in legend, while others come straight from the slightly twisted minds of our own gamemasters. These were developed by Tabletop Adventures staff for use in games we have run at conventions in our area. They aren't necessarily highly polished; they don't even all have the same format. They do have one thing in common, though – they can inspire the imagination, which then leads to having fun.
You can download the 13 Adversaries only from the Tabletop Adventures website, so click here: 13 Adversaries for Against the Darkness
Remember you only have a few hours left to pick up Tabletop Adventures products for 25% off, during our Anniversary the 13th sale. Although our Anniversary observance ends at midnight, the sale will go on until about 8 AM Central Time at RPGNow and Tabletop Library. Augment your imagination, with products from Tabletop Adventures!